8. State History Museum Of Kyrgyzstan | Bishkek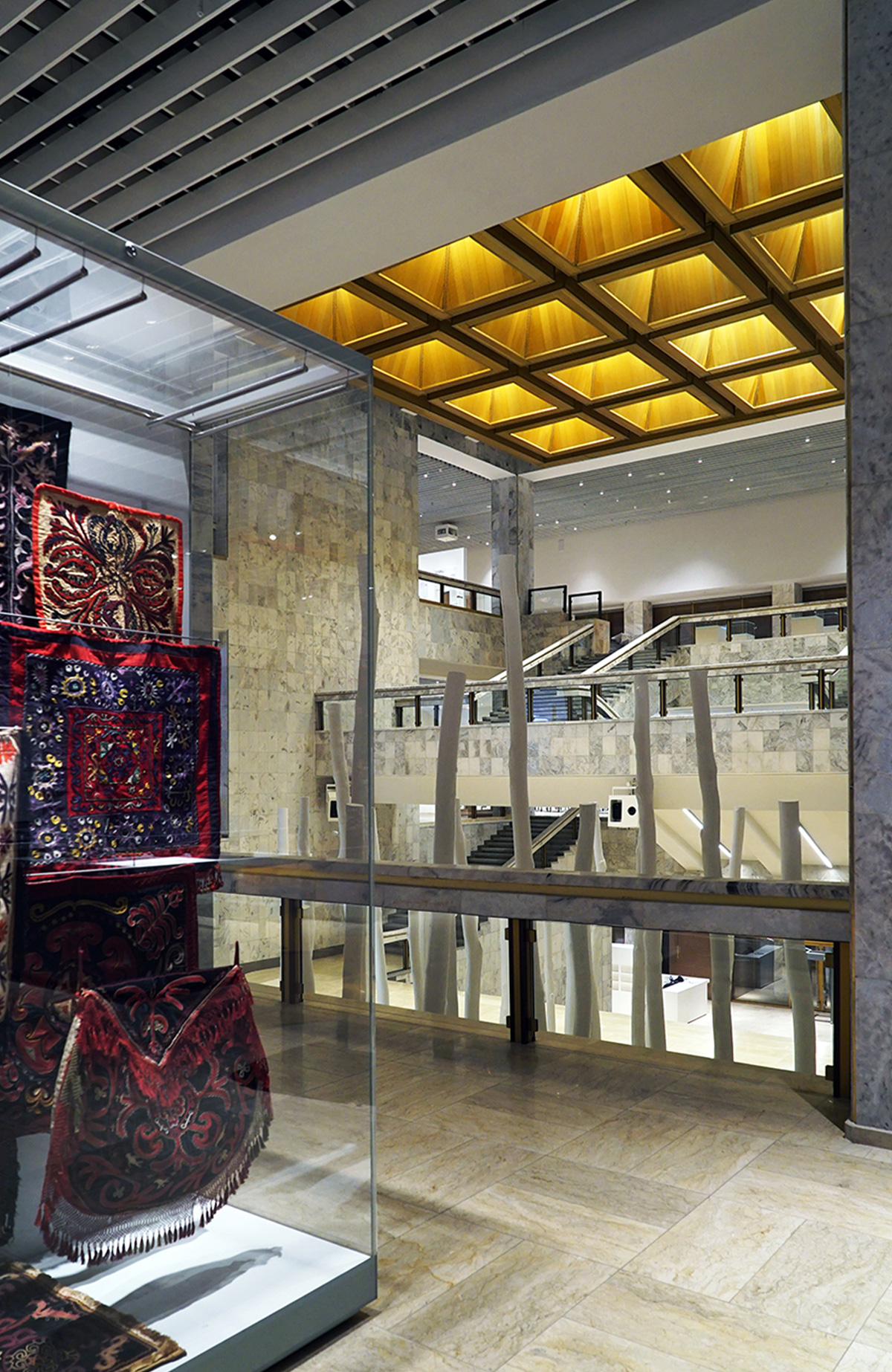 State History Museum Of Kyrgyzstan | Bishkek - Permanent Exhibition Design

The State Historical Museum of Kyrgyzstan has been given new life by creating an exhibition route from the Stone Age to the present day, revealing a thousand-year-old culture that has produced priceless treasures. Renovation of the building, a new entrance hall, a large conference room bring the museum into the circuit of the great international museums. The history of the nomadic people, who for centuries were free to roam the earth, was the soul of the project.

National State History Museum
Location: Bishkek, Kyrgyzstan
Exhibition design: Ighlaut + von Grote
Interior design: Kinzo Architekten
Exhibit management: Abrell + Van Den Berg
Lighting design: Jan Blieske
Media planner: Framegrabber
Showcases: Reier Vitrinen und Glasbau

The State History Museum of Kyrgyzstan was founded in 1926 and became the country's main scientific institution. In 1954 it was totally rebuilt and initiated in Lenin becoming the largest museum in Central Asia.

The brutalist style of the building follows the directives of grandeur and theatricality typical of post-war Soviet constructions. Located in the main square of Bishkek, facing the main street of the capital on which overlook the great administrative buildings of the state, also with brutalist and imposing style.

In 2018, its restoration was inaugurated, which included the renovation of the interior and the restoration of the facades, entrances and new windows with sunshades.
The interiors were split between the public spaces and the exhibition area, which represented the history of the Kyrgyz people from the Stone Age to the present day.
The public part has included the new entrance hall with a ticket office, shop and wardrobe. The conference hall with the foyer was renovated and all floors of the building were made accessible to the disabled bearers.

The exhibition area covers about 7,500 sqm on three stories. The chronology of the exhibition follows the rise of the floors. The project has provided for the realisation of a vast number of showcases all designed to display the objects. Each section of the museum itinerary focuses on closed boxes, where the most precious items are kept or small rooms for the projection of videos and historical documentaries. Media, photographs and graphics help the visitor to interact with the artworks, making them accessible and educational for all age categories.

The museum exhibits a rich selection of artefacts from prehistoric ages, daily objects, fabrics, clothes, and the best products of the modern era. There is also a large yurt representing the nomadism of the Central Asian people.

All the materials and showcases have been specially designed and produced in Germany and the great collaboration with the team has made it possible to create an extremely contemporary museum inside a building with a strong historical connotation.