The sea is revolutionising the country | German Navy Museum


May to October 2018
The characters' story of the "November Revolution" is described by a three-dimensional installation that makes the user float inside a grid of interactive totems. Colour, design and media create a unique environment, with incomparable perspectives and viewing angles, in perpetual flux.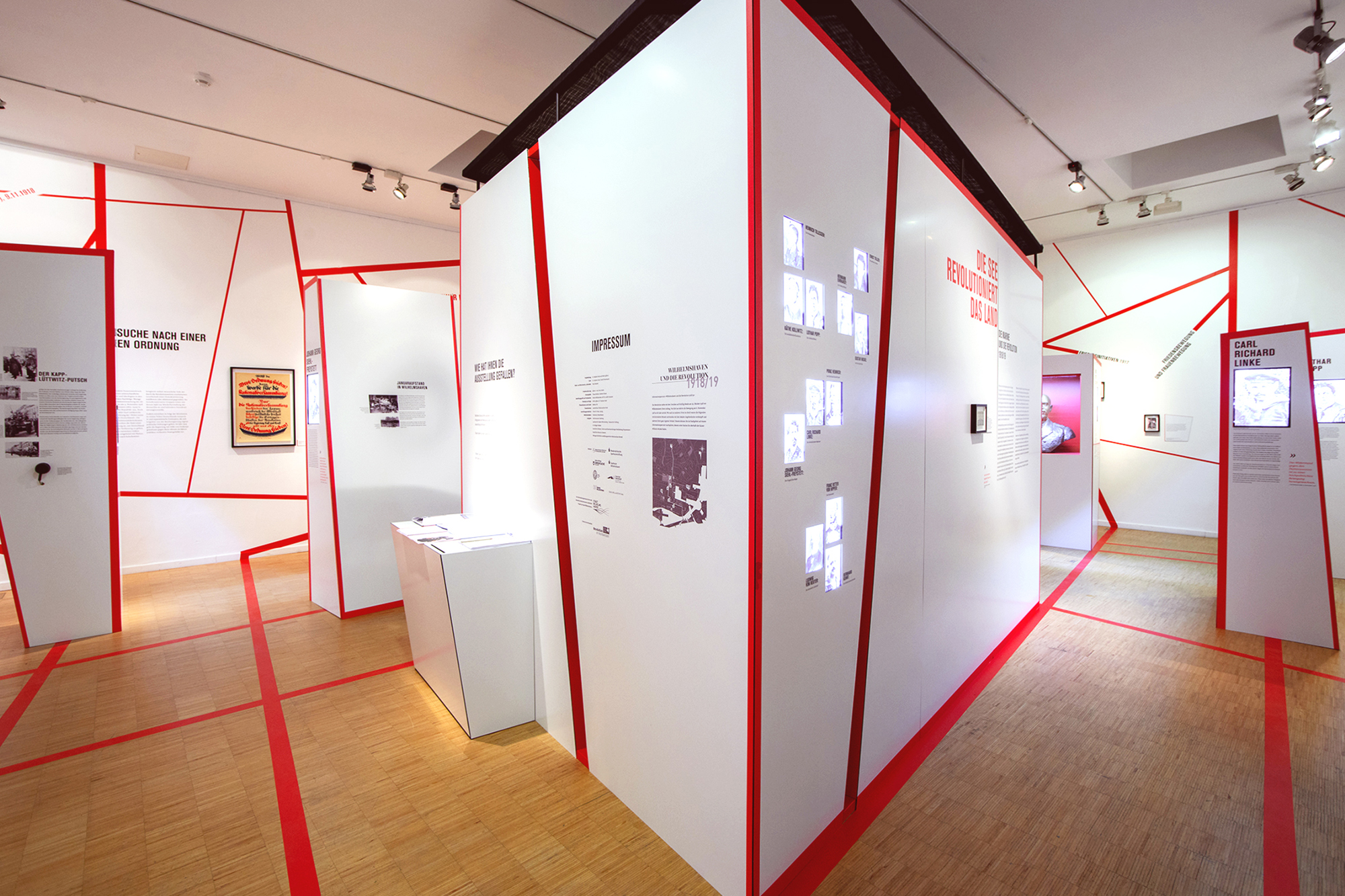 The sea is revolutionising the country
Location:

German Navy Museum, Wilhelmshaven


Exhibition design: Ighlaut + von Grote

From the tiny town of Wilhelmshaven on 29 October 1918 the "November Revolution" began, the mutiny of two ships moored in the harbour, which led to the last phase of the end of the First World War and the turning of the German state from a constitutional monarchy to a parliamentary republic.

During the First World War, the largest naval fleet of the Austro-Hungarian Empire was based in Wilhelmshaven and the poor state of condition of the ships caused a series of unrest among the crew, resulting in mutiny. Repression by the generals led to the imprisonment of 47 rebel sailors in nearby Kiel. The population, tired and challenged by the Great War, took the sailors' side and put the government and the city's military authorities under control. Finally asking the emperor to abdicate, the revolution spread throughout the kingdom and reached the capital Berlin.

The exhibition shows the story of some key figures in the revolution, telling how these people acted within the revolutionary movements. The 12 characters are identified ideally with as many totems, which neutrally present their story. The project started from a strong geometric construction of a grid. The two-dimensional and three-dimensional evolution of the display cases was developed from digital manipulation of the base grid, creating a very strong relationship between all the columns both in plan and in 3D.

The columns are created by non-perpendicular axes that accentuate the dynamism and organicity of the revolutionary movement. In the centre of the museum room, a small projection space has been created where original videos from the period of the revolution can be projected.The project was developed in correlation with the graphics, which shared the idea of organicity and is reflected from the floor to the walls. Objects find and media flow into the main elements, creating a full-experience by the visitor.